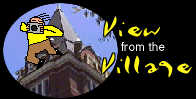 ---
TOP TEN REASONS WHY I WAS LATE FOR WORK DURING THE OLYMPICS:
Bus driver held up route map and said, "Does anyone know where these places are?"

Bus route from 14th Street to campus went through Birmingham.

Got lost in Home Park while walking from parking lot to avoid Birmingham trip.

Irate Plant Operations Department people (described by ACOG as "POD People") stuffed ACOG personnel under bus when they could not produce route map.

Stopped 13 times by ACOG while having to walk for six miles to find opening in Olympic fence.

Turned back at campus gate by ACOG official who said food could not be brought in. However, official provided free olympic souvenir pin and menu for $4.50 ACOG hot dogs and $4.00 bottled water.

Got on ACOG shuttle bus #5, which said "Jacksonville" on front. Bus went to Jacksonville.

Yuppie-looking vehicles with "ACOG Staff" and "I Brake for Billy Payne" bumper stickers jammed local intersections.

Accosted by homeless person who demanded $5.00 for cup of ACOG coffee.

Can't prove it, but nobody seems to be in charge here.



Author(s): unknown (someone please email me)
---