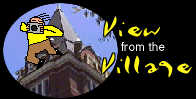 ---
This message mysteriously appeared in the git.general newsgroup this morning:
Village Facilities Update (a satire)
____________________________________

This is a message of importance to the campus regarding facilities on campus.

We were informed today by ACOG that effective immediately all public restrooms are available only to Athletes, National Olympic Committee (NOCs), and ACOG staff and volunteers. Georgia Tech employees have been asked not to use the restrooms.

Georgia Tech employees are asked just to delay or to use the port-a-potties located outside the Access Control Points.

Miller Beer, director of Olympic Planning, wants Tech employees not to look at this as a problem, but as "an opportunity to stay awake and alert throughout the day."

In consolation for the restroom ban, ACOG announced that all Coke and coffee machines will be free of charge.

Miller also noted that ACOG is considering banning the use of air by Georgia Tech employees. ACOG says "These are Athletes. Athletes use a lot of oxygen running, jumping and swimming, and we can't have any precious atmospheric gasses wasted on people not participating or helping with the Games." Miller, however, is trying to negotiate off-peak hour use of the atmosphere by Georgia Tech employees.

____________________________________
Alan Arrowhead
Olympic Satirist and Joker
Georgia Tech - You can't go there. You can't do that.
"We've built it, so get out!"
---